Day 1 :
Keynote Forum
Consultant Pediatric Surgeon at Queen Rania Al-Abdallah Hospital for Children

Biography:
---
Consultant Pediatric Surgeon since 15 February 2012 till now.Working in one of three teams at Queen Rania Al-Abdallah Hospital for Children interesting in laparoscopic surgery performing and assissting in variety of cases such as Fundoplications, uretric reimplantation, lap. assissted pyeloplasty, cholecystectomy, nephrectomy, appendectomy and splenectomy. In addition to neonatal surgery, tumour surgery and wide variety of general pediatric surgerical conditions.
Abstract:
Historically the Cohen technique has been considered the "gold" standard in open surgical management of VUR. This technique has the inherent end result of placing the uretric orifice across the midline of the trigon and theoretically making future access to the uretric orifice possibly more difficult than if they remained lateralized. The Glenn-Anderson technique does not require contra lateral placement of the uretric orifice thus likely not complicating future UO access. We compared both techniques in pediatric age group at two separate institutes to assess the feasibility and short term outcomes. Methodology: Between April 2014 and April 2015, 90 consecutive cases of ureteral reimplantation performed for VUR were retrospectively analyzed in two different hospitals. Surgical complications, length of stay and short term outcomes were evaluated in an attempt to assess the equivalence or superiority of either procedure. Forty five cases ( 75 ureters) group (A) from Queen Rania Children Hospital, King Hussein Medical Center, Amman-Jordan, managed by Cohen procedure. Forty five cases, (65 ureters) ,group (B) from Rocky Mountain Children Hospital at Presbyterian St. Luke's Medical Center, Colorado. All patient had single system ureter without complex anatomy such as ureterocele, duplex collecting systems, or megaureters. Results: Surgical indication in all patients was VUR and VUJ obstruction. All patients in group A were discharged at day 4 to 5 post-operatively while patients in group B were discharged at second day post-op. Patients age was ranged between 8 months and 10 years while body weight ranged from 9 to 38 Kilograms. All patients in group A had local anesthetic incisional wound infiltration compared to group B whom received caudal block and bladder neck and trigonal local anesthesia in addition to incisional block. Five patients in group A developed urine retention while none in B. Four patients in group A had no resolution but downgrading of their VUR. No patient to date has required further surgical intervention. Conclusion: Glenn-Anderson procedure is a feasible and equivalent technique to Cohen cross -trigonal -ureteral reimplantation. Glenn-Anderson technique theoretically as a result of a more orthotropic uretric orifice placement should allow for easier ureteral access in patients that developed urolithiasis requiring retrograde ureteral access. Length of stay as a measure of postoperative convalescence was superior in the GA technique with all patients being discharged the day after surgery. Perhaps the adjunct local wound infiltration into the bladder neck and trigone played a major role in the ability for earlier discharge? It is not unreasonable to consider this technique as equivalent and potentially superior to others for these reasons. Further prospective study looking at postoperative pain measures and longterm surgical outcomes as well as latent need of additional ureteral access procedure will be necessary to confirm our initial impressions.
Keynote Forum
Pediatric Infectious Diseases Specialist
Time : 10:00 AM

Biography:
Mir N Anwar graduated in Medicine from Bangladesh in 1975. He did his Post-graduation in Pediatrics from Ireland in 1982. He did his MPH concentration Maternity and Child Health from University of Massachusetts, USA in 2003. Then he joined UN/ WHO and worked as a Pediatric Consultant & Public Health Specialist, around the world including Asia, Japan, Middle East, Africa, Pacific Island, Ireland and USA. Since 2007 he has been working in South Africa in different provinces of South Africa with the Department of Health. Presently he is working as a Clinical Medical Manager in Richmond Chest Hospital, KZN. South Africa. Presently his main interest is in Childhood TB and HIV in Sub-Saharan Africa. In his long carrier in Pediatric and Public Health he attended several international congress, conferences, and seminars and presented his original work. Some of them were published in International Journal including American Child Neurology Journal, Japan Pediatric Neurology Journal, Pakistan Pediatric Journal, Bangladesh Child Medical Journal, Nigerian Journal of Obstetrics and Gynecology etc. For his work he is honored by American Academy of Pediatrics, Royal College of Health, UK, and International College of Pediatrics. His biography is published in Who's Who in Medicine Cambridge, UK in 1985
Abstract:
Malnutrition occurs when an individual's dietary intake is not balanced with nutritional needs.More than 75% of the children admitted in Public Hospital of sub-Saharan Africa for any reason are suffering from Malnutrition. 15% of South African infants are born with a low birth weight. the fact that 25% of pre-school children and 20% of primary school children in South Africa suffered from malnutrition.
Since 2011 to 2016 over the period of 6 years we followed total Paediatric admission in Stanger Hospital, KZN province, South Africa .Average annual admission is around 1400-1500(excluding neonates) in Paediatric wards, Around 9000 over last six years, female child are predominant, female and male ratio was found 60:40.The prevalence of malnutrition in South Africa varies across different geographical areas and socio-economic groups [1] Many infants in Africa suffer from malnutrition because their mothers do not breastfeed them. The 2010 South Africa Department of Health Study found that 30.2% of pregnant women in South Africa have AIDS and they are reluctant to Breast feed their children.
Malnutrition is an underlying cause of severe poverty in Sub –Sharan Africa.[7] According to statistics from the year 2000, 50% of the South African population is under the poverty line.The World Health Organization showed that over the span of thirteen years (1995 to 2008), the deviation from the average height of children under age five in South Africa has decreased from 28.7% to 23.9%.The approach of Dietician and Pediatrician to fight back Malnutrition problems is a major problem in Africa, which is an ongoing effort.
Keynote Forum
Emeritus Professor of Pediatrics

Biography:
Dr. Widness is Emeritus Professor of Pediatrics at the University. Dr. Widness received his his M.D. from Duke University.. The focus of his work encompasses neonatal anemia with a major focus on erythropoiesis—including the pharmacokinetics and pharmacodynamics of erythropoietin. More recently his interests have encompassed RBC survival and transfusion in newborn infants. Since fellowship, Dr. Widness has maintained continuous NIH support for his research. He has served as an ad hoc member of NIH study sections and as an Associate Editor for the American Journal of Physiology and for Neonatology. He has over 200 peer review publications
Abstract:
Objective Based on the hypothesis that neonatal autologous red blood cell (RBC) survival (RCS) is substantially shorter than adult RBC, we concurrently tracked the survival of transfused biotin-labeled autologous neonatal and allogeneic adult RBC into ventilated, very low birth weight infants.
Study design RBC aliquots from the first clinically ordered, allogeneic adult RBC transfusion and from autologous infant blood were labeled at separate biotin densities (biotin-labeled RBC [BioRBC]) and transfused. Survival of these BioRBCs populations were concurrently followed over weeks by flow cytometric enumeration using leftover blood. Relative tracking of infant autologous and adult allogeneic BioRBC was analyzed by linear mixed modeling of batched weekly data. When possible, Kidd antigen (Jka and Jkb) mismatches between infant and donor RBCs were also used to track these 2 populations.
Results Contrary to our hypothesis, concurrent tracking curves of RCS of neonatal and adult BioRBC in 15 study infants did not differ until week 7, after which neonatal RCS became shortened to 59%-79% of adult enumeration values for uncertain reasons. Analysis of mismatched Kidd antigen RBC showed similar results, thus, confirming that BioRBC tracking is not perturbed by biotin RBC labeling.
Conclusions This study illustrates the utility of multi-density BioRBC labeling for concurrent measurement of RCS of multiple RBC populations in vivo. The similar RCS results observed for neonatal and adult BioRBCs transfused into very low birth weight infants provides strong evidence that the circulatory environment of the newborn infant, not intrinsic infant-adult RBC differences, is the primary determinant of erythrocyte survival.
Perinatal/ Neonatal Pathology
Location: 2
Session Introduction
Duzce University School of Medicine, Department of Child Health and Diseases, Turkey
Biography:
Abstract:
The first incidence of phenylketonuria in Ankara in 1983 with a pilot study to investigate the screening program began in Turkey, has been expanded upon determination that high. Diseases such as phenylketonuria, congenital hypothyroidism, cystic fibrosis and biotinase deficiency can be detected with the Heel Blood Test, which is a simple and inexpensive method with a few drops of blood in the next 5-10 days after birth. Jaundice is the most common problem in the newborn and should be carefully monitored with the reason for the toxic effects of bilirubin. Hypothyroidism, one of the causes of indirect hyperbilirubinemia, is one of the most important endocrine diseases of childhood. Congenital hypothyroidism Symptoms and signs are very rare during the neonatal period. It is very important to detect congenital hypothyroidism in the early period and to eliminate the cause of the effect of thyroid hormone on the child's motormental development.
Pediatrics and Child Health
Location: 3
Pediatric Cancers and Oncology
Location: 4
Medical Genetics in Pediatrics
Location: 5
Session Introduction
Medical student in "Tehran University of Medical Sciences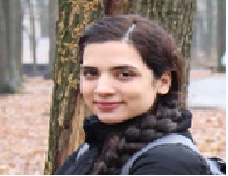 Biography:
Elham Rayzan is a last year medical student in "Tehran University of Medical Sciences" (TUMS). She has started her research activities in "Universal Scientific Education and Research Network" (USERN) as a junior researcher.
She is the managing director of "International Hematology/Oncology of Pediatrics' Experts" (IHOPE) group since 2016. IHOPE is one of USERN's interest groups that has started working with junior scientists and is focused on state of the art researches in the mentioned field.
Elham is planning to continue her education in Pediatrics' Hematology/Oncology and she is thinking of find a cure for hematologic malignancies.
Abstract:
Statement of the Problem:
One of the most harmful DNA damages is double-strand break which results from genotoxic stress. NHEJ1/ Cernunnnos/ XLF protein is a DNA repair factor that plays an important role in non-homologous end-joining pathway. Recent studies revealed that mutations in this gene can cause different types of severe combined immunodeficiency disorders.This report describes clinical and laboratory features of a girl with dysregulation in antibody production due to homozygous NHEJ1 mutation.
Methodology & Theoretical Orientation:
In this report, we are going to present a nineteen months-old Iranian girl who was referred to "Children's Medical Center" with a history of high fever and hemolytic anemia. Her parents were first cousins and there was no positive family history of diseases.
The very early symptoms of the disease were started at the age of eleven months-old with high fevers and two episodes of coombs positive hemolytic anemia. Since no specific infection site was found and the fevers did not respond to usual treatments, more investigation was performed. The Immunoglobulin test showed a remarkable rise in serum IgM level, while serum IgG level was decreased.
Diagnosis of "Hyper IgM" was made just after retesting the levels of serum immunoglobulins. Nevertheless, the second test was performed after a single dose IVIG injection, determined high levels of serum IgM although the IgG level was increased. In order to comprehend the genetic pattern of the disease, whole exome sequencing was done. The results showed homozygous NHEJ1 mutation in the patient's genome.
Pathology for Pediatric Immunology
Location: 6
Session Introduction
Associate Professor Community Health Nursing Department, Hamadan University of Medical Sciences, Hamadan, Iran
Biography:
Abstract:
Abstract
Background: The growth of children is a health indicator at each country and growth monitoring has a great importance. This study was done to determine the anthropometric indices of secondary school students of Hamadan, west of Iran.
Methods: This was a cross-sectional study. 816 girl & boy secondary school students in Hamadan selected based on cluster random multistage sampling. We gathered data through questionnaire. The status of anthropometric indices was assessed by height, weight and body mass index and then it was compared with the NCHS standards. The analysis of data was done through statistic tests (Regression and T-test) by using SPSS/16.